Merlot:  Roark Wine Company 2015 Santa Ynez Valley, CA – Pairing Rating:  9.0 out of 10.0
Chenin Blanc:  Huet Vouvray Sec 2013 Clos du Bourg, Loire Valley, FR – Pairing Rating:  9.5
Rosé: Domaine Tempier, 2015 Provence FR – Pairing Rating:  9.0
Vegetarians we're not.  But we are always on the hunt for a meatless dinner recipe . . . for the sake of variety and dietary health. The pursuit, however, can be a challenge:  finding one that's nourishing, appetizing and wine-compatible. Sure, pasta dishes come to mind, but the carbs in pasta may be a bit heavy for a summer dinner. Finding this recipe in Fine Cooking magazine was like a gift: delicious, healthy, easy to prepare and very wine-friendly.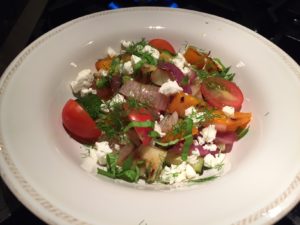 Recipe: Grilled Vegetable Salad with Feta
The flavor profile of this dish is the key to the wine pairings:  earthy flavors from the grilling, acidity from the vinegar dressing, and a salty, creamy mouthfeel from the Feta cheese. A lot going on, but oh so tasty. The earthy flavors and the Feta argue for a smooth red rather than a tannic one.  And the acidity of the dressing dictates that the wine have some acidity as well, but a measured amount. Ideally, we want to match acid strengths. Here's how it came down.
Our first wine choice was a Merlot from California's Central Coast:  Roark Merlot 2015 ($32) from the Santa Ynez Valley.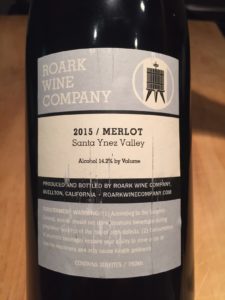 Unlike most Merlot's from Napa, the Roark is lighter-styled, which is precisely what we were looking for with this dish. But Roark's lighter style does not mean it is short on red and black fruits, delivering them in a medium-bodied structure. It served up freshness and a moderate level of acidity, all tempered by smooth tannins. The grilled meat notes from the wine paired beautifully with the grilled vegetables. But because there is a good bit of olive oil on the veggies, we felt that we should seek out a wine with a bit more zesty acidity.
That pursuit brought us to one of our favorite Rosés –  Domaine Tempier. This link will take you to the blog post where we profiled this producer of Bandol Rosé and Rouge.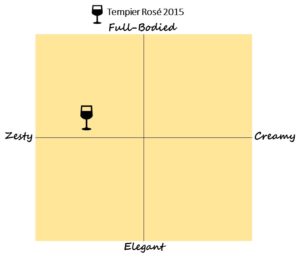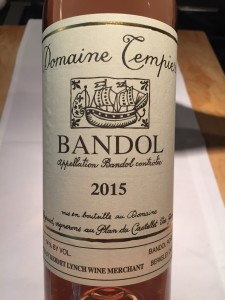 The Tempier Rosé 2015 ($44) is a beauty. As we wrote in that earlier blog post, this is a structured Rosé – due to the relatively high percentage (  ̴55%) of mourvedre. The final blend has a nose of yellow stone fruits, a palate rich with strawberry and blood orange flavors, and finish of zesty minerality. We love this Rosé for its vibrant complexity; but with the grilled vegetables, it was a bit too zesty, coming up a bit short on a creamy mouthfeel needed to complement the Feta cheese. We continued our search for the Goldilocks wine that would strike the right balance of zesty acidity and smooth, rounded mouthfeel.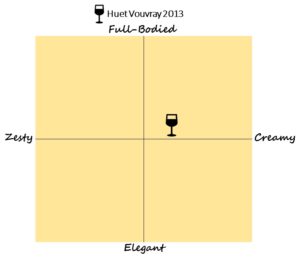 We found that balance in the Vouvray from Huet's du Bourg Vineyard 2013 ($34). This is classic Chenin Blanc from the Loire Valley in France, where Huet is considered to be one of the finest producers in the commune of Vouvray. The wine served up a nose of crisp pear, apple and flowers that gave way to honeyed citrus on the palate. Make no mistake, this is a dry white but with a rich, textured mouthfeel and just the right touch of zesty acidity.  Ideal for these grilled vegetables. We thought this pairing edged out the other two; but we also readily admit our bias to Chenin Blanc as one of the most versatile food pairing wines. Think of it as the Claire Underwood of white wines: striking, poised and never overbearing.
Perhaps you will prefer the Rosé or the Merlot. Regardless, all are good choices with this top shelf recipe.