Carmenere:  Alchemy 2014, Cachapoal Valley, Chile – Pairing Rating:  8.5 out of 10.0
Carignan:  De Martino Vigno 2013, Maule Valley, Chile – Pairing Rating:  9.0
It's not lost on us that Osso Buco is old school. But before we get into the full swing of summer, we thought we'd write one final post on a comfort food pairing. Osso Buco, Italian for "bone with a hole", is a Milanese specialty of braised veal shanks in a hearty broth of tomatoes, onion, stock and wine. It is traditionally served with saffron risotto and gremolata, a parsley, lemon zest and horseradish condiment – as we did here.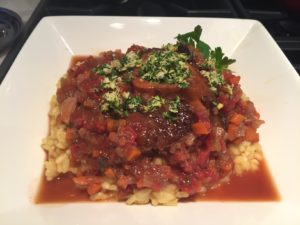 Sangiovese is considered a "classic" pairing for this dish, where the bright fruit and crisp acidity of Chianti Classico marry beautifully with the complex flavors of the tomato-based braise and saffron-infused risotto. As is often the case, "classic" can mean unimaginative. Curious to try different varietal wines with the dish, we looked first to the signature grape of Chile – Carmenère.
The grape was brought to Chile before the onset of the Phylloxera plague in France. The Chileans thought the grape to be a clone of Merlot.  But in 1998, DNA analysis identified it as Carmenère.  With low acidity and potentially high tannins, the wine made from it is lush and elegant.  No wonder it is a classic blending grape in France with Cabernet Sauvignon and Merlot.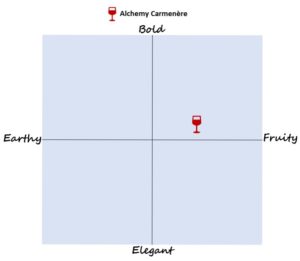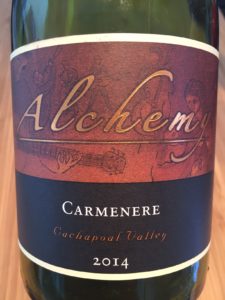 The wine we chose was Alchemy Carmenère 2014 ($20) from the Cachapoal Valley in Central Chile. It's a wine with a velvety texture of black fruits – blackberry, black cherry and plum – but relatively low acidity and relatively soft tannins. Alchemy is a great value but may be hard to find. However, Montes, a producer in Chile's Colchagua Valley (a bit farther south), offers two Carmenère's:  Alpha ($20) and Purple Angel ($65). The Montes wines are widely available, with the Purple Angel rising above the less costly wines in expressing the best the grape and Chilean terroir have to offer.
The curious thing about writing this blog and sampling all these wine pairings is that our wine tastes have changed – from rich wines with bold tannins to wines of more moderate fruit, more earth and less power. We think they generally pair better with food. Hence, our motivation to seek an alternative to Carmenère. We found that in Carignan.
Generally speaking, Carignan is a blending grape. As a single varietal wine, however, it delivers a nose of violets, raspberries and wild herbs; and on the palate – red & black fruits with a somewhat peppery finish with noticeable tannins. Known as Mazuela in Northeast Spain, Carignan is often blended with Garnacha (Grenache) in the Spanish reds of Priorat. However, in the past decade, Chile has proven to produce excellent wines that are almost exclusively Carignan.
The wine we selected was De Martino Vigno Carignan 2013 ($37) from the Maule Valley in Chile. Vigno is 85% Carignan, with the balance a mix of Malbec, Cinsault, Cabernet Sauvignon and Carmenère. The wine had all the red and black fruits we expected, and the acidity and midweight of Pinot Noir, but with more energy . . . an attribute we thought necessary to stand up to the hearty flavors of the Osso Buco. In essence, the Carignan was a more intense pairing than the Carmenère. Delicious.
American Poet Billy Collins, in his poem Osso Buco, described the feeling of enjoying this dish as ". . . the lion of contentment has placed a warm heavy paw on my chest." While Billy doesn't mention wine pairings, we would add that if you like that "paw" declawed, go for the Carmenère. Otherwise, try the Osso Buco with the Carignan . . . and save the Sangiovese for a pasta dish.