Amontillado: Gran Barquero, Montilla, Spain – Pairing Rating: 9.0 out of 10.0
Godello: As Sortes Blanco 2011, Valdeorras, Spain – Pairing Rating: 9.0
Gazpacho, said to have been brought to Spain and Portugal by the Romans, quickly became the summer soup (and drink) of choice for Andalusians in southern Spain . . . and Sevilla, in particular. The world's first smoothie, perhaps. Now it's on every restaurant's summer menu. And for good reason: it's healthy, cool and refreshing. No cooking involved; and blenders make haste of the prep. No pounding with a mortar & pestle as the ancients did.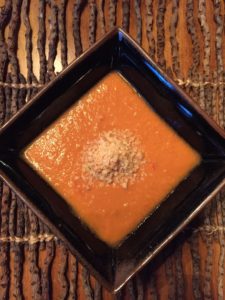 The excellent recipe in the link below is by Julia Moskin of the New York Times. It's a contemporary version – omitting the soaked bread in the interest of "lightness". After experimenting with several recipes, this has become our go-to recipe for gazpacho. And for a true Spanish presentation, we've topped the soup with chopped Marcona almonds.
My first thought for a wine pairing was to look to the Spanish wines produced in the Andalucía region. Seems perfectly logical to conclude that, over the centuries, food preparations would evolve to pair with the locally grown grapes. That thinking leads one to consider dry Sherry. The NYT recipe calls for Fino Sherries with this recipe. Finos are very dry Sherries with saline, almond and herbal flavors, imparted by a layer of "flor" (yeast cells) under which the Fino ages. Our preference is a sherry style called Amontillado. These are finos that undergo additional barrel aging in the presence of oxygen. Relative to Finos, we like the finesse and complexity of Amontillado brought about by this oxidative aging.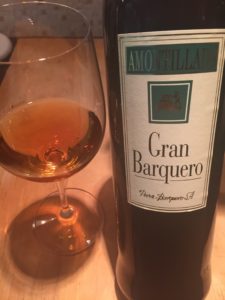 The Amontillado we chose was Gran Barquero ($39). Because the wine was made in the town of Montilla rather than Jerez, it cannot be labeled Sherry. A marketing technicality for sure, since the towns are only about 100 miles apart, and have similar chalky soils. Of greater significance, however, is the grape used to produce these wines. Jerez Dry Sherries are largely made from the Palomino grape, while in Montilla, the dominant grape variety is Pedro Ximénez, or PX for short. In the right hands, PX can produce wines with greater ". . . upfront richness, along with notes of honey and dried fruit", according to Peter Liem, a noted author and authority on wines from Andalucía.
The Gran Barquero Amontillado is aged for eight to ten years under a veil of flor. The wine is then aged oxidatively for another twelve years before bottling. The result is a wine of striking richness, with notes of toffee, caramel, almond and assorted spices. It had the weight and intensity to stand up to the vibrant flavors (onion, garlic, vinegar) of the gazpacho without overpowering it. The Marcona almond garnish served as a bridge to the toasty flavors of the Amontillado. In fact, one of the best ways to appreciate Sherries in general, is to serve them with an appetizer plate of Iberico ham, Marcona almonds and black olives. It's transformative, like reading Don Quixote for the first time.
It is not lost on us that a Sherry pairing may be a bit too adventurous for some. So we began a  search for an unfortified white wine pairing, which took us to northwest Spain. Our first thought was to pair the gazpacho with Albariño, the crisp, white, unoaked wine from the Rías Baixas region. The wine, a 2015 from producer Columna ($14), delivered tart lemon/lime and a green apple finish, but was angular in its mouthfeel. I also thought the wine was a bit lacking in fruit complexity. A very refreshing patio-sipper, but not what we were looking for with this gazpacho.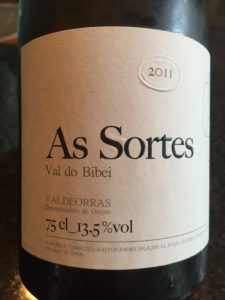 We then looked east from Rías Baixas, about 80 miles, to a region called Valdeorras, where white wines are made from the Godello grape. We selected a wine made by Rafael Palacios called As Sortes ($45) from the 2011 vintage. (Small plots of land are called sortes in the Galician language). We found this wine to have the crisp minerality of the Albariño, but with a velvety texture, no doubt evidence of neutral oak and/or lees-stirring. On the palate, the complex fruit profile was rich with lime and unripe honeydew melon. An excellent partner for the tasty Gazpacho. If the As Sortes is hard to locate, seek out the Avancia Godello Cuvee de O 2014 ($18), which is more widely distributed.
Godello is definitely the choice for those seeking a more crowd-friendly pairing. But for those looking for a stirring, dramatic pairing, go for the Amontillado. The ingenious, knight-errant "Don Q" would have settled for nothing less!