Vermentino: Tablas Creek 2011 – Pairing Rating: 9.5 out of 10.0
Rosé: Commanderie de Peyrassol 2015 – Pairing Rating: 9.0
Chardonnay: Domaine Bzikot Bourgogne Blanc 2014 – Pairing Rating: 8.0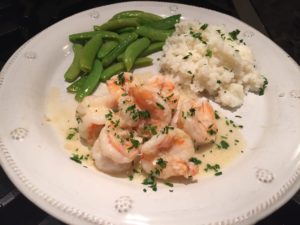 For us, summer means fast food. That is, "fast" as in preparation. And at the top of the "fast prep" list are Shrimp. Typically, we grill them on skewers after briefly marinating them in olive oil and garlic. But for a sit-down first course, or even a main course, a more elegant presentation is to sauté them and reduce a sauce of chicken stock, white wine, butter and garlic. Fast, elegant, aromatic . . . and incredibly flavorful. The recipe link below is from the New York Times, authored by Melissa Clark.
One can't help but think of the ocean when sitting down to Scampi. Made famous in Italy, where Scampi involve Langoustines rather than shrimp, the dish calls out for those grapes grown and vinified in a Mediterranean climate. Pairing local foods with local wines is always the best way to address the wine pairing challenge.
Summer also means Rosé, and what could be more Mediterranean than Côtes de Provence? An easy decision was to reach for the Commanderie de Peyrassol 2015 ($19) – a Rosé classically styled from Cinsault, Grenache, Syrah and a touch of Mourvedré. The wine's watermelon-pink color gives way to fresh and vibrant raspberry flavors. We love the Peyrassol, and it's a perfect summer cocktail wine, but the Scampi deserved a wine pairing with a bit more complexity and citrus to stand up to the lemony, garlic-butter sauce. We continued our exploration.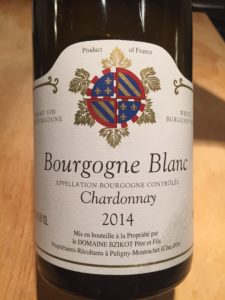 Professional wine reviewers and journalists have been singing the praises of the 2014 vintage of white Burgundies. While the best of the vintage are yet to be released, some of the village wines are available. Upon the advice of a local wine merchant, I bought a bottle of Domaine Bzikot Bourgogne Blanc 2014 ($25). The wine (100% Chardonnay) served up a refreshing nose of citrus and white flowers. On the palate, we tasted crisp lemon/lime acidity, with intense minerality and hints of vanilla and brioche. There was little evidence of new oak; likely some neutral oak. The bottom line, however, was that the Bzikot was simply too acidic for this dish. Yet the wine is indicative of the quality of the 2014 vintage in the Côte de Beaune. Based on this village wine, the Pugliny-Montrachet vineyards, from which this wine is crafted, should deliver spectacular wines in the '14 vintage.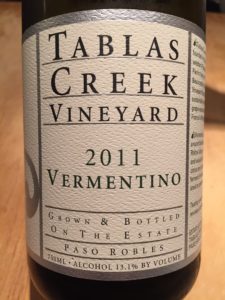 Our final selection in this Scampi search was a 2011 Vermentino from Tablas Creek ($27), a Paso Robles CA producer specializing in the grapes and blends of the Southern Rhone. While Paso is a long way from the Med, its soils and climate are nearly identical to that found in the south of France. The Tablas Creek Vermentino sees no oak, and is, therefore, comparable to the Bzikot in that attribute. But here the lemon/lime was complemented with apple and melon flavors that delivered more complexity and a rounder mouthfeel. The acidity and minerality were there, but they did not overwhelm the Scampi the way the Bzikot did. Beautiful. I would have given it a perfect score save for the fact that the wine is probably only available at the winery. For other Vermentinos, look to Italy: Cantina Gallura Canayli ($18), a single vineyard Vermentino from Sardinia. Also recommended is Stella & Mosca's Vermentino di Gallura La Cala ($13), described as "light, clean, spicy white, with . . . aromas of wild sage and fennel."
One final note. For those who think that our legislators in Washington are incapable of making tough decisions, take note: April 29th has been named National Shrimp Scampi Day. Really. This decisive, legislative action has renewed my faith in the US Congress. Please hand me a corkscrew.