Cali Chardonnay: Ojai Bien Nacido 2011 – Pairing Rating: 8.5 out of 10.0
White Burgundy: Maison Latour Meursault 2009 – Pairing Rating: 9.5
Is sophisticated pasta dish an oxymoron? That's how the The Silver Palate Cookbook (1982) described this recipe. In this instance, it's not an oxymoron. In fact, I think it's an apt descriptor. The authors tout this as "the perfect first course of an important dinner." The recipe is web-available:  Recipe: Pasta with Lobster and Tarragon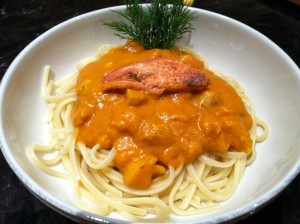 It is uncomplicated, but takes about 1 hour to cook and pull together. Note that while the recipe doesn't spell it out, you need to use cooked lobster, because in the final step (3 to 5 minutes), you simply rewarm the lobster chunks.
Chardonnay is often served with cooked shellfish. But what style of Chardonnay? And from what part of the world? After all, Chardonnay can be steely as in Chablis, high in minerality and acidity as in Puligny-Montrachet, crisp and fruity as from the California Central Coast, or round and oaky as in some California Napa Chardonnays.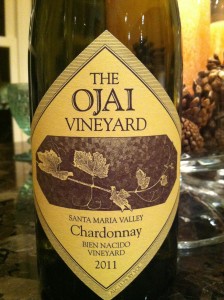 For this dish, I narrowed the pairing to two wines. First up: the Ojai Chardonnay 2011 from the Bien Nacido vineyard ($59). This vineyard is northwest of Santa Barbara, just east of the town of Santa Maria, but west of the coastal mountains in the Los Padres Nat'l Forest. As such, Bien Nacido gets the cooling maritime Pacific air, and enjoys the long, dry growing season of the Central Coast. This allows the grapes to build flavors for months from vines planted in 1973. Ojai barrel-ages the wine in neutral oak resulting in a flavor profile of tangy, citrus zest and ripe apricots, followed by a stony finish. And while the wine was wonderful on its own, that stony finish clashed with the cream in the dish, throwing the wine off balance. Not terrible, just not great.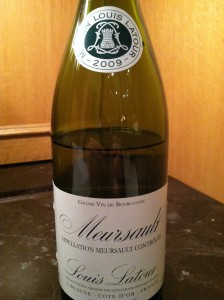 It was the cream, rather than the tarragon or the cayenne pepper, driving the pairing selection. So I reached for a 2009 white Burgundy from Meursault ($35). As you may know, Louis Latour is both an owner of vineyards and a négociant(a buyer of grapes from vineyards not owned). The label on the neck of the bottle (Maison) indicates that this is one of his negociant wines – less expensive than Domaine wines, but it is well-made. The 2009 vintage is pointedly fruit-forward for French white Burgundy, with the distinguishing characteristic of hazelnuts, followed by a creamy, roundness to the finish. Absent were the strong vanilla tones found in some over-oaked Cali Chardonnays. In the end, it was the creaminess of the Meursault that won me over, resulting in a pairing with contrast but without dominance by either the wine or the cream sauce.
So strike sophisticated pasta dish from your list of oxymorons (I would still keep original copy, pretty ugly and jumbo shrimp on the list). Give this recipe and the Meursault a go.