Nahe Riesling: Schäfer-Frölich Kabinett Felseneck 2014 – Pairing Rating: 9.0 out of 10.0
Rheinhessen Riesling: Keller von der Fels 2014 – Pairing Rating: 7.5
There is no shortage of spicy Chicken recipes: Buffalo Wings, Kung Pao Chicken, Cajun Chicken, and a flock of variations from Korea, India and Thailand. Many of these are too fiery for still wine and are better paired with beer or sparkling wine. But there is a recipe that has been expertly executed by the Barcelona Wine Bar in Connecticut that dials down the heat a bit and puts rotisserie chicken to shame. The dish is called Chicken al Pimientos and it is their most popular entrée. Here's the link for the recipe: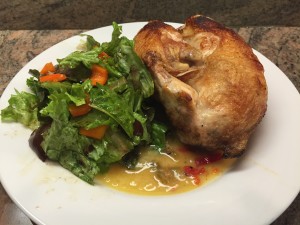 The recipe calls for a complex way to butcher and prep the chicken. Don't be put off by this. Just know that breasts and thighs, cut any way you like, work best with this recipe. There are two keys to this dish: first is to cook the chicken in cast iron to crisp the skin and finish it the oven; the second is the sauce.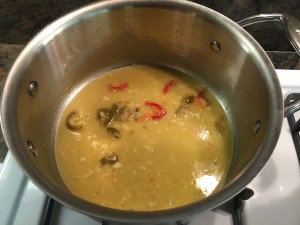 What we like about the sauce is that there is no cream and only a bit of butter at the end. Controlling the heat is a function of how many hot cherry peppers you put in the sauce. And those peppers are the key to the wine pairing.
Many sommeliers assert that German Riesling is a natural partner for hot, spicy foods. But that's like saying jazz is great dinner music; just as there is a variety of jazz styles, so too with Riesling. We started with a 2014 Riesling from Rheinhessen by Klaus-Peter Keller called von der Fels. This style of Riesling is called Trocken, meaning it is dry.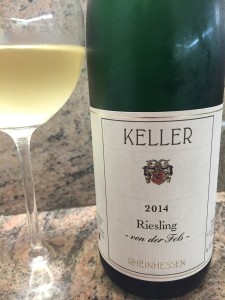 The Keller von der Fels is an entry-level wine from a world-class producer. Hints of fresh grasses and lilac on the nose give way to apricot and grapefruit on the palate, with a touch of salt – probably the limestone soils finding it way into the juice.
Everything about the Keller Riesling was in balance – the mark of a skillful winemaker – but the style is high-energy. And the finish of lemon pith was simply too much for the hot peppered sauce. Too dry and too nervy for this dish. Like listening to John Coltrane over dinner when Paul Desmond might be a better choice.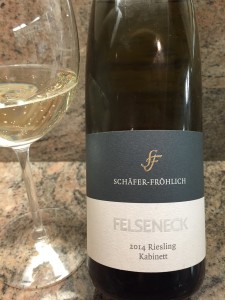 Knowing we wanted a wine that was less dry and more soft-spoken, we found it in 2014 Schäfer-Frölich Kabinett Felseneck from the Nahe region. Felseneck refers to the vineyard, and Kabinett means that when the grapes were harvested, they were fully ripened. Kabinett-designated Rieslings are typically off-dry but with crisp acidity, and they are lower in alcohol (7 to 9%). With the Chicken al Pimientos, the wine was near perfect: a nose of nectarine and palate of juicy, crisp pineapple – very silky and delicate. There was just enough sweetness to tame the heat of the sauce, and plenty of refreshing minerality to close.
Don't shy away from Rieslings that have a touch of residual sugar like Kabinetts. They can be ideal pairing partners with hot and spicy dishes, as the Schäfer-Frölich was with this dish. Then put on some Paul Desmond to truly enhance the experience.