Tannat: Bodega Garzón 2012 – Pairing Rating: 9.5 out of 10.0
Just north of Newport Beach, CA, in Costa Mesa, we discovered a restaurant called Arc. It is a unique, 2-year-old restaurant that is part of a commercial development called the OC Mix. The restaurant impressed us as part Greenwich Village and part Woodstock, Vermont.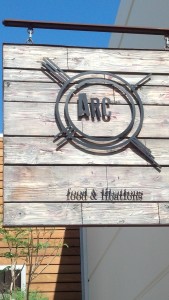 Arc stages a cool, earthy vibe with no pretensions: their menu speaks without flourish, using descriptors such as cow, duck, pig, cheese, shrooms etc. They use locally sourced ingredients, and all cooking is done over an open wood fire. The bar menu is a kick: it showcases modern interpretations of classic cocktails and a beer and wine list that is unique in its affordability, scope and global reach.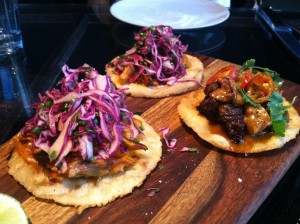 It was the Wines-by-the-Glass list that caught my attention; in particular, it offered a grape grown in Southwest France and Uruguay, called Tannat (pronounced tuh-NAWT). Tannat is darkly colored, full-bodied and, as grown in Uruguay, rich with black and red fruits. The World Atlas of Wine describes it as " . . . plumper and more velvety than in its homeland in southwest France (Madiran) and can often be drunk when only a year or two old." We likened it to Syrah, but without the peppery notes.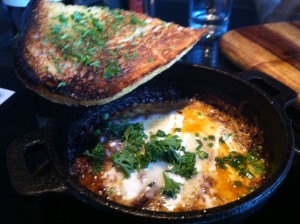 Trish ordered a trio of tacos: two fish and one steak. I decided to test Arc's rendition of chili. The Tannat was fine with the steak taco but overpowered the fish tacos. Where the wine really worked was with the Arc chili: spicy "cow" and "pig", the chili stood its ground, delivering spice, texture and sufficient heat that demanded a wine of structure and intensity, but with sufficient sweet fruit to stand up to the robust chili. Wine books often speak of ideal pairings where 1 + 1 = 3. This is exactly how the Tannat worked with this chili.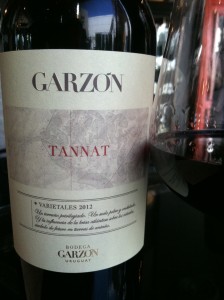 The Garzón Tannat hails from Maldonado on the southern coast of Uruguay across the Rio de la Plata from Buenos Aires. Sunny days and cool, breezy evenings make for gradual ripening, resulting in wines of freshness and attractive acidity: a consequence not of altitude, but of the loamy soils and the Antarctic currents of the south Atlantic. Easy prediction: Tannat will be the signature grape of Uruguay, following in the footsteps of Argentine Malbec. One final note:  Tannat is high in procyanidins – the source of red wine's reputed health benefits!  In fact, the book Wine Grapes states that "the Gers region of France (the region where the vast majority of Tannat is grown) apparently has double the national average of nonagenarian men."  Do you need another excuse to try this wine?  Pull the cork on a bottle of Tannat the next time you slow-cook a pot of chili, grill a Porterhouse or smoke some Baby Back Ribs. This may be your new go-to big red!