Cabernet Franc:  Joguet Chinon Les Varennes du Grand Clos 2013 – Pairing Rating:  9.0 out of 10.0
Super Bowl 52 was inspiring. The Eagles were 4.5-point underdogs (according to CBS Sports) yet went on to win by 8 points. We know we're stretching the analogy a bit, but Cabernet Franc has always been an underdog to Cabernet Sauvignon. Less sweet, more herbal and not as full-bodied as Cab Sauvignon, Cab Franc simply can't compete in a one-on-one tasting without food.
Yet for all those reasons, Cab Franc, the parent (along with Sauvignon Blanc) of Cab Sauvignon, is a more versatile food-pairing wine. As evidence, we cite our 2014 post pairing Cab Franc with Grilled Rib Steak & Arugula and our 2015 post pairing the wine with Grilled Swordfish and Rosemary-Olives-Citrus Sauce.  To those, we add this pasta dish:  Rigatoni with Sausage, Squash and Goat Cheese. An outstanding dish that deserves to stand with the earlier posts.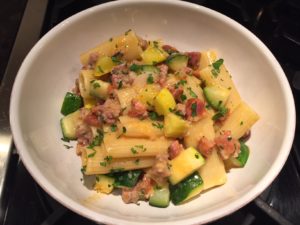 The only adjustments we would suggest to this fine Rigatoni Recipe is to use fresh chorizo rather than hot Italian sausage (too hot) and use Drunken Goat Cheese.
We admit that squash and goat cheese seem unlikely partners for pasta. However, both the cheese and the squash served to lighten up the dish compared to the traditional accompaniments of tomatoes and Parmigiano Reggiano. And the Cab Franc . . . an unusual choice for a tomato-free dish . . . beautifully complemented both the goat cheese and the squash without overpowering them with bold fruit.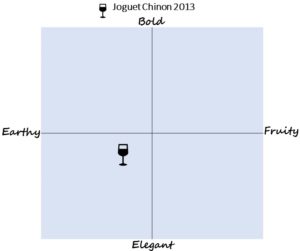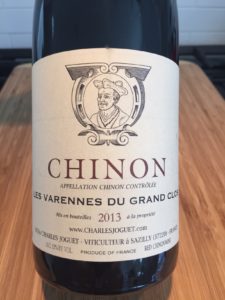 The Cab Franc we most enjoy is from the Loire Valley in France:  Charles Joguet Les Varennes du Grand Clos from the village of Chinon ($38). Joguet's 40-year old vines grow on a north-facing slope of largely gravel and sand. With minimal clay, the vines ultimately yield wine of finesse and precision, in a light-to-medium bodied frame. Perfect for the subtle flavors of this dish.
On the nose, the Cab Franc was redolent with red and black fruits, accompanied by black pepper and dark spice notes. The wine brought juicy raspberry and black currant to the palate, with accents of bell pepper, tobacco and stony minerals. The tannins were light, but the acidity was high, positioning it squarely as a food wine, not a cocktail wine. We had the 2013 vintage on hand, but we would recommend seeking out the 2014 or 2015 vintages for their more favorable weather conditions and, therefore, riper fruit.
In our judgment, the Joguet Cabernet Franc is one of finest in the Loire, but it may be difficult to find if you do not live on the East or West Coasts. California produces some Cab Francs (Chappellet) but these tend to be more full-bodied. We suggest looking to New York's Finger Lakes Region (H.J. Wiemer or Ravines) for Cab Franc more in the Loire style.
Regardless of country of origin, seek out Cabernet Franc. It repeatedly bests Cabernet Sauvignon for those dishes calling for a lighter touch . . . like this excellent pasta dish.