Riesling:  Schafer-Frohlich Felseneck Kabinett 2015 – Pairing Rating:  9.5 out of 10.0
The poor pork chop.  It's never achieved the cachet of the beef rib chop or the veal chop. We set out to address this issue and quickly realized that pork needs a partner, a wing man, to elevate its status. Not unlike Seinfeld and Costanza . . . or H. W. Bush and Quayle.  OK, maybe not that last one.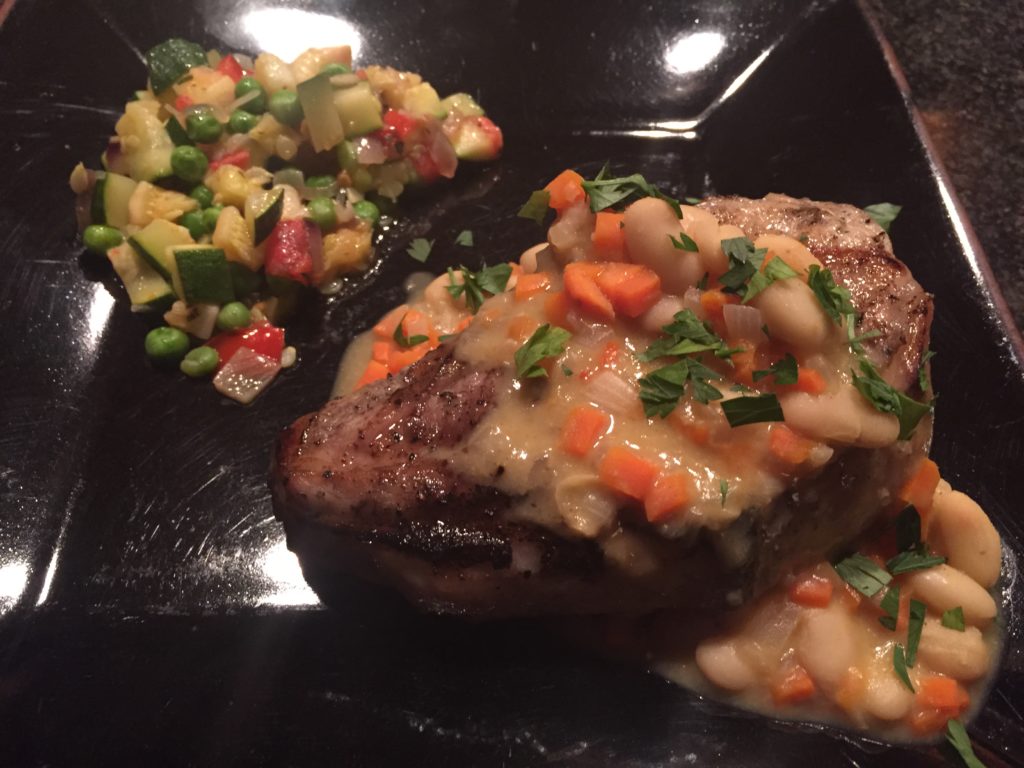 Beans. Of course! Beans are the perfect partner for pork! But not beans alone. After all, even Jerry and George needed Elaine and Kramer to make a remarkable, hit show. So too, pork needs garlic and carrots to complement the creamy texture of the beans. But that's not all. The execution of this dish requires some critical, key steps.
Key Step #1:  brine the chop for 1 to 2 days depending on thickness.  Because most pork chops are not well-marbled, tenderness can be problematic. Brining addresses that issue, while infusing a few spices at the same time. The brine recipe we like to use is from the Zuni Café Cookbook and can be found in the recipe link below. We have one suggested revision:  cut back on the sugar to 4 Tbsp.
Key Step #2:  after brining, thoroughly rinse the chops in cold water, pat dry and place back in the frig for an hour or so. This helps diffuse the spiced brine evenly through the meat.  While you are waiting for this, you can prepare the beans and garlic.
Pork likes sweet sauces. Think apple sauce or honey BBQ sauce. Too much sweet for us, however. Instead, tone it down using a vegetable like carrots to provide both texture and subtle sweetness to the beans and garlic. That what the recipe below offers.
Recipe: Pork Chops with Garlic & White Beans
Key Step #3:  When preparing the beans and garlic, do not braise the chops as the recipe instructs.  Braising the chops runs the significant risk of overcooking them. Rather, buy one extra chop and braise that with beans to impart the pork flavor.  For the chops you want to serve, grill them, thereby achieving the precise level of "doneness" you prefer.
The compelling wine pairing with this dish is Riesling. We say that for two reasons:  one, the dish is inherently lean, so there's no need for a big tannic wine to cleanse the fat from the palate; two, the carrots add a touch of sweetness to the dish. But the sweetness of carrots is subtle.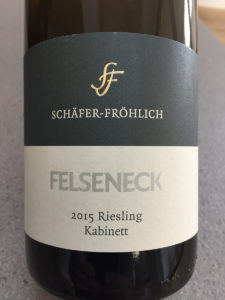 That same level of subtlety is evident in a Kabinett Riesling.  And for that we chose the Schafer-Frohlich Felseneck Kabinett 2015 ($35). Kabinett is a German designation meaning that the grapes were fully ripe when picked. We love this wine for its perfect balance of ripe fruit, acidity and minerality. The wine has sufficient weight to handle the beans and garlic, yet does not overpower the dish with either acidity or sweetness. Some sommeliers rave about the ability of Rieslings to pair with a broad array of foods. We're from Missouri on that claim.  But we do believe that Riesling has its place – and this ourstanding recipe is perfect for Kabinett.
Thus far, in the 72 blog posts we have written, there are only two prior ones where we favored Riesling over other pairings:
Riesling and Chilled Curried Pea Soup
Check those out. And buy some German Rieslings from the 2014 or 2015 vintage. Both are excellent years to begin your pairing initiative with this beautiful wine.