". . . some fava beans and a nice Chianti."        Dr. Hannibal Lecter 1991
Sangiovese:  Cafaggio Chianti Classico Riserva Basilica Solatìo 2010 – Pairing Rating:  9.5 out of 10.0
Montepulciano d'Abruzzo:   Nicodemi Notàri 2010 – Pairing Rating:  9.0
Ragù comes from the French ragoûts and reached the Italian region of Emilia-Romagna in the late 18th century.  The first ragù as a sauce, ragù for maccheroni, was prepared by the cook to Cardinal Barnaba Chiaramonti of Imola (Diocese of Bologna), who went on to be Pope Pius VII. The recipe was published as The Cardinal's Ragù.  It called for beef or veal and a broth base, spiced with cinnamon and ample amounts of black pepper, and was made by combining the ragù with hollow maccheroni-style pasta . . . then baking it.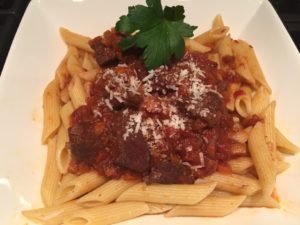 This recipe passes on the cinnamon, shuns the baking step and opts for a crushed tomato base. The result is a pungent, hearty, savory ragù with notes of acidity from the tomatoes and sweetness from the carrots. We recommend using only 1 carrot, not 2, as called for in the recipe. Too sweet with two in our view.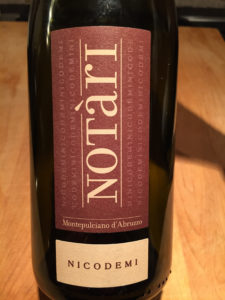 For the wine pairing, the author of the recipe (Michael White for Food & Wine) recommends Montepulciano d'Abruzzo.  It's a full-bodied red with gobs of fruit, and its soft tannins complement the sweetness of the carrots. We agree and think that the Nicodemi Notàri 2010 ($20) is an excellent expression of the Montepulciano grape:  plush black and red fruits, with mineral notes and hints of balsamic; moderate levels of acidity and gentle tannins. You may recall reading that we favored this wine with Cioppino in an earlier post.
While we enjoyed the Notàri, we thought we could improve on the pairing suggestion.  Perhaps a wine that is more mid-weight in body, with slightly more refreshing acidity and slightly less obvious fruit. All points led us to Sangiovese; in particular, Chianti Classico Riserva from the excellent 2010 vintage.
Our selection was a 2010 Basilico Solatìo ($36) from Cafaggio. The silty-clay loam of the Solatìo vineyard, coupled with the vineyard's south-facing location in the "Golden Basin" of Chianti, impart richness to the Sangiovese grapes grown there.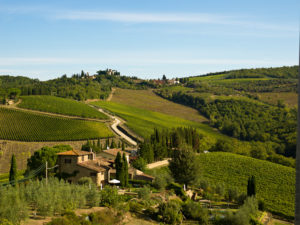 Villa Cafaggio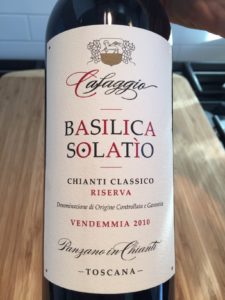 In the glass, aromas of black fruits, leather, spice and balsamic emanate. On the palate, ripe cherries, sweet raspberry, licorice and spices are nicely balanced within a round mouthfeel.  The oak was well integrated reflecting the wine's maturation for 24 months in medium-sized Slavonian oak barrels and bottle-aging for six months. In addition to the Basilico Solatìo besting the Notàri in terms of weight, acidity and fruit, we felt that the pairing was more sophisticated, elevating the status of the excellent ragù.
Try this Chianti Classico Riserva with the Lamb Ragù. We don't think you'll be going back to fava beans anytime soon.