Gewürztraminer:  Hugel & Fils "Jubilee" (Alsace) 2007 – Pairing Rating: 9.0 out of 10.0
We're always fishing for another recipe for Salmon. Something a little bit different than the usual grill-and-sauce routine. We also wanted to find a great recipe that is better suited for the oven – when rain or snow make grilling less than appealing.
We found it in the Evan Goldstein cookbook Perfect Pairings. If you are unfamiliar with this work you should check it out. The effort that Evan has put into this work is amazing: great recipes and a broad array of wine varietals. . . all with excellent notes, commentary and pairing pointers. We're sure we will be creating posts from other recipes in this text.
Recipe: Salmon with Spiced Onions & Currants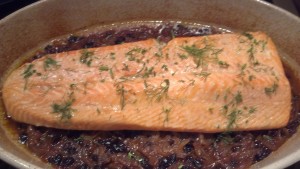 The recipe hooked us when we saw the spices involved in the onion sauté: cinnamon, nutmeg and currants soaked in cognac. After the spiced onions and currants have softened (about 5 minutes), vegetable stock is added and the salmon is then laid on top and roasted in a 450-degree oven. Uncomplicated, attractive (add a little chopped dill) in presentation and absolutely delicious with the spiced onions adding the needed punch to the subtle flavors of the salmon.
Evan recommended this dish to be paired with a dry Gewürztraminer. The fruity, spicy Gewürz both complemented and compounded (in a positive way) the spiced onions in the dish. And there was sufficient acidity to cleanse the palate of the very modest amount of fat found in this preparation.
One might think a Riesling would work here. We would rather save the Riesling for Thai food, where the hot spices work better with a low alcohol wine like Riesling. Gewürz ripens later than dry Riesling. As such, it generally delivers higher alcohol. And higher alcohol wines don't pair well with hot, spicy foods. But the spices in this salmon preparation aren't hot and so Gewürz works beautifully with this dish.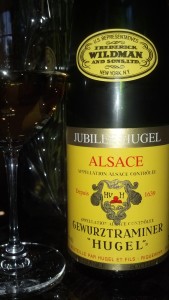 Our choice was the Hugel & Fils Gewürztraminer Jubilee ($46 for the 2009)  – a long-recognized producer from Alsace. The wine delivered aromas of honeysuckle and clove, with tastes of apple, pear, peach and tangerine. Our taste has always favored a fruit salsa with salmon. Perhaps Gewürz can be thought of as an alternative approach to a fruity salsa, but without the natural sweetness one gets from fresh fruit.
Definitely check out the Goldberg book; and keep dry Gewürztraminer in mind for rich fish and fowl dishes, where the spice is bold but not fiery.