Billed by Antonio Galloni as "The Ultimate Barolo Experience", I had been looking forward to this for months:  15 of Piemonte's elite growers coming together at Del Posto in NYC for an afternoon tasting of their 2008 Baroli.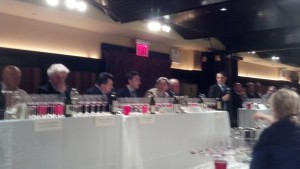 About 150 people paid $300 each to be served, classroom style, by 30 Sommeliers from some of NYC's finest restaurants. Antonio emceed the event with each grower given the opportunity to speak.  Very professional, with plenty of discussion and questions from the floor.  The line-up of 2008's was as follows, with the grower-representative in parentheses:
E. Pira Barolo Cannubi (Chiara Boschis)
Borgogno Barolo Cannubi (Andrea Farinetti)
Luciano Sandrone Barolo Cannubi Boschis (Luca Sandrone)
Roberto Voerzio Barolo Cerequio (Roberto Voerzio)
Elvio Cogno Barolo Bricco Pernice (Valter Fissore)
G.D. Vajra Barolo Bricco delle Viole (Giuseppe Viara)
Vietti Barolo Rocche (Luca Currado)
Paolo Scavino Barolo Riserva Bric del Fiasc (Enrico Scavino)
Conterno-Fantino Barolo Sori Ginestra (Favio Fantino)
Elio Grasso Barolo Ginestra Vigna Casa Matè (Gianluca Grasso)
Poderi Aldo Conterno Barolo Romirasco (Franco Conterno)
Pio Cesare Barolo Ornato (Pio Boffa)
Giacomo Conterno Barolo Cascina Francia (Roberto Conterno)
Brovia Barolo Ca' Mia (Alex Sanchez)
Cavallotto 2007 Barolo Riserva Bricco Boschis Vigna San Giuseppe (Alfio Cavallotto)
Many wine tasters and writers like the 2008 over the 2007 vintage because it is more classical in structure, better balanced in its flavor profile.  I agree, and these 2008s were all great, but three in particular stood out for their ability to pair with food:
Elvio Cogno Barolo Bricco Pernice 2008:  A delicate and very pretty nose, light in color, with a very long finish.  This is a beautiful food wine, arguing to be paired with delicate fare.  This was one of the most feminine wines at the tasting, making it, in my opinion, the most versatile food wine.
Conterno-Fantino Barolo Sori Ginestra 2008:  The darker color matched the rich impressions on the nose.  The wine had a complex, fruity attack and midpalate, with a finish that was elegant and long.  This wine exhibited more new oak than the eight that preceded it in the tasting.  As such, I would serve this beauty with beef or a hearty pasta dish.
Pio Cesare Barolo Ornato 2008:  Antonio Galloni's comment about this wine from Serralunga d'Alba was "…tar and roses".  Stylistically, I felt this wine struck a balance between the femininity of the Elvio Cogno and the masculinity of the Conterno-Fantino.  It was clean, precise and graceful, with plenty of big, red fruit.  Delicious!
Look for future posts where I pair various foods with these wines.